Why to Move IceWarp to New Server
If you are using IceWarp account only for your business purpose and otherwise for personal use opted for another email client, then you can import those mails simply to that. But for that you must have backup of those emails. In next tab you can know how Icewarp export email.
You can also move IceWarp to new Server like MS Office 365, MS Exchange, MDaemon server as these servers are popular with their better features and so as their demand or you are going to increase your business level. Before Migrating IceWarp to new server you must be known of the fact that IceWarp saves its data on local disk at C:/Program Files/ IceWarp folder where it saves all the data with whole details and emails in "mail" folder of all the users but these files are not in readable form. If you want to view and read IceWarp emails properly, then you must take backup of the emails simply by exporting them from the user account.
You can look for a IceWarp email Migration tool which can help you to migrate IceWarp to Office 365, Windows Live Mail, Exchange Server or another email client, Migration Tool which can help you to save files in different formats like PDF, RTF or HTML too as per the requirement.
Our Clients

How IceWarp Export Emails?
Tool convert all the IceWarp emails in different formats it is must to know that how IceWarp mails can be exported. The method is simple and IceWarp allows you to save single mail in text, html, eml format and this format is not supported by all the email clients. To save multiple emails you can export to only .eml format.
IceWarp Export Email using following process.
Login IceWarp WebClient account.
In mails section Select a mail and to select all the mails use CTRL+A.
Right Click or Click the Hamburger icon
just above the mails.
Click Save As.. option
Choose EML format to download the backup of IceWarp Mails
Go to the downloaded location unzip that .zip folder.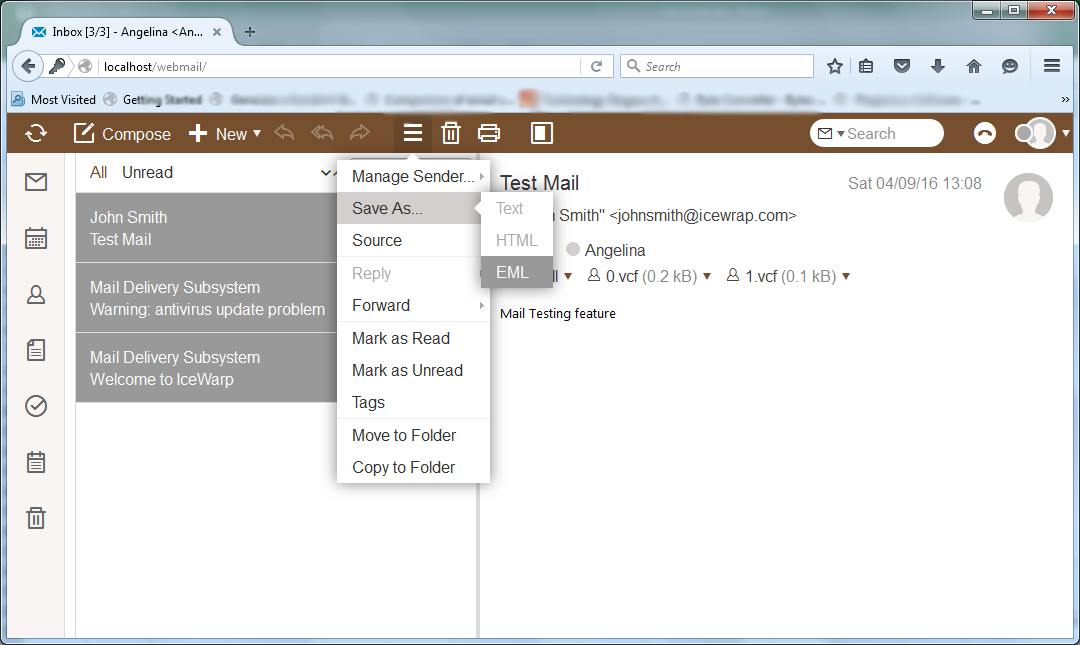 IceWarp Email Migration Tool
If you are looking for IceWarp Email Migration tool which can help you to convert exported emails in different formats, then IceWarp Email Migration Tool is the one.
Migrate to various email clients like MS Outlook, Windows Live Mail, Windows Mail, Mozilla Thunderbird, Apple Mail, DreamMail, Entourage, Outlook Express, MS Office 365 or Exchange migration, The Bat!, Zoho Mail, etc.
There can be chances when your Icewarp Server has been crashed the data from the local has been crashed. You can any extract all the mails using WebClient login credentials and then can follow the export mail process. If you are using different email client on other system or on your local machine. It can be possible let's say for e.g. if you are using MS Outlook and want to view Icewarp emails too in your Outlook without using IceWarp Outlook Connector and is unable to configure the account or you are using any other email client or Icewarp has been crashed. In all these kind of situations you just have to convert the format of your IceWarp emails to email client supported format, use Icewarp Email Migration Tool to complete the process. Converted files will support all the versions of the email clients.
IceWarp Email Migration Tool helps you to convert emails to various formats like MBOX, EML, EMLX, MBX, MSG, RTF, PST, PDF and HTML. If you are looking forward to move Icewarp to New Server, then IceWarp to Exchange Migration or Server like MS Office 365 migration can also be processed using IceWarp Email Migration Tool. But it can be noted that tool will only help you to migrate unlimited emails and runs on Windows OS only. Convert email files or folder to PST format and then you can import the converted files to Office 365, Exchange servers.
You can check the free version of the software and can experience IceWarp tool by your own. Free Icewarp Email Migration Tool will convert only 25 mails from all the folders.
Click to know More
A: IceWarp Email Migration Tool will help you to convert unlimited emails in 9 formats and will convert to PDF and PST too which will support all the latest versions of applications.
A: Tool will only help you to convert unlimited emails exported from user accounts to other formats.